There's no doubt that the importance of grooming in a man's daily routine has become much more of a necessity – whether it's your morning scrub or your nightly cleanse. Finding the ideal products for your routine can be quite the task, especially when you're trying to consider factors such as effectiveness, longevity and price. Our Online Editor reviews the 'Kiehl's Grooming Solutions' line and gives you his thoughts on three hair-care products included in this range.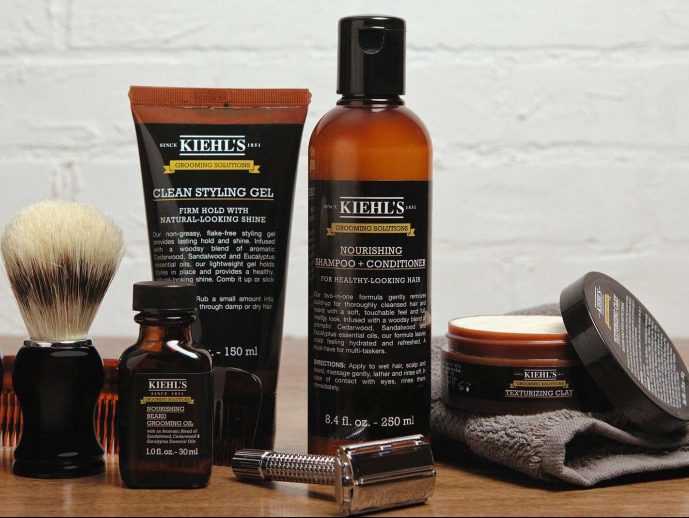 Nourishing Shampoo & Conditioner (for healthy looking hair), €22.50
Let's admit, we all love a good shortcut every now and then – time is money, and well, sometimes we don't have either of those. Luckily, this 2-in-1 shampoo and conditioner helps to alleviate that problem. This rich, smooth formula generates a creamy lather to gently clean hair and removes build-up while leaving it with a soft, touchable feel and fully refreshed look. The combination of natural oils locks in a woody aroma and helps your hair to feel nourished. This shampoo and conditioner definitely packs a punch and has added much convenience to my hair care routine.
Texturizing Clay (medium hold with matte finish), €22.50
It can be difficult when trying to find a product which achieves a healthy, textured look. Usually, the outcome is messy and weighed-down hair, looking unfinished and leaving an unpleasant feel. Thankfully, Kiehl's Texturizing Clay avoids all of these problems and delivers exactly what it says on the tin: it defines, shapes and texturizes hair, while providing a flexible long-lasting hold. One of the most ideal things about this clay is how little product is actually required to create a finished look, while still providing a long-lasting hold. This means getting plenty of usage out of the one tub, saving you time and money in having to invest in other products that may not do so.
Clean Styling Gel (firm hold with natural-looking shine), €22.50
I have to say, since I've started using this product I haven't once looked back at any other styling gels I would normally use, nor do I want to! For people with thick hair, it can often be a chore trying to achieve a more sleek, sophisticated look. It'll either fade away in little to no time at all or you've used so much that you're left with greasy and flaky looking hair. The Kiehl's Clean Styling Gel offers a solution for this and for a long-lasting and natural-looking shine. Whether I want to comb it up or slick it back, this product has made hair-care grooming much more manageable and takes away the many stresses that come with other hair products. This definitely gets a big thumbs up from me and has become my new go-to.